| Item ID | Starting Bid | Bids | Current Bid |
| --- | --- | --- | --- |
| 63580 | $2.00 | 1 | $2.00 |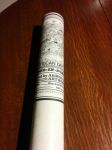 Winning Bidder
Winning bidders will be contacted after the in-person auction closes
620 x 900 mm. poster titled African Days is ready to be coloured.
An article from Nancy Monson, USA TODAY Best Years magazine 8:01 a.m. EST November 14, 2015
When the going gets tough, real women start coloring. They're picking up adult coloring books by the droves, at bookstores and craft stores, on Amazon.com and even from the Home Shopping Network.
The designs appeal to every interest — from whimsical doodles to circular mandalas, nature scenes and fantasy worlds.
Coloring not only evokes happy memories of childhood; the act can also foster a sense of well-being and offer a relaxing respite from our digital world. Crafters have known this intuitively for years.
An accumulation of research shows that these creative activities can help you de-stress from everyday pressures. Recent studies suggest that structured, rhythmic endeavors such as coloring, knitting, crocheting or quilting are particularly beneficial because they ease you into a meditative state of mind that allows you to push away negative thoughts and worries.
Value $ priceless once you or your children have completed it